Our Approach
We build beautiful homes. People often tell us that they see something special, something different, in the houses we build. An Aubrey Home is often a combination of beautiful colors, amazing stonework, spacious and bright interiors, the latest appliances and energy efficient systems. All of these factors are combined in a home that is designed for specific lifestyles, created for a wide variety of needs; as different as a young, growing family to a couple who are planning for retirement.
One of the things that sets us apart from other Austin area home builders is the fact we are woman-owned and operated. We are Austin's exclusively licensed Woman-Centric homebuilder. Woman-Centric was born from years of research, proving that 91% of all home purchases are made or primarily influenced by women, (Smith-Dahmer Associates, NAHB IBS). But a woman-centric approach isn't just for women! It involves sensible, thoughtful design that is appreciated by both women and men. At its core, a woman-centric approach embodies the values and practices of Aubrey Homes.
Every project we work on is special in its own way. The length of process depends on many factors, such as what floor plan you choose, natural elements, finishes, etc. The process of building a new home from the ground up typically takes 6 months to one year. The actual process of building a home starts with you, the prospective homeowner, in a Getting to Know You Meeting and you can see our full Home Building Process by clicking here.
You pick the style of house you want - or we can help you determine the style that best suits you by taking the Finally About Me!® Quiz. It will ask you questions on preferences in your everyday life to analyze your style.
Livability at a Glance®
Choosing a plan can be challenging because it's often difficult to visualize the finished home and how it will live. To make it easier, we have a new way to present floor plans to help you narrow the search for a design that fits your personal lifestyle and needs. We use color coded floor plans to focus on 4 important filters of livability - entertaining, de-stressing, storing, and flexible living.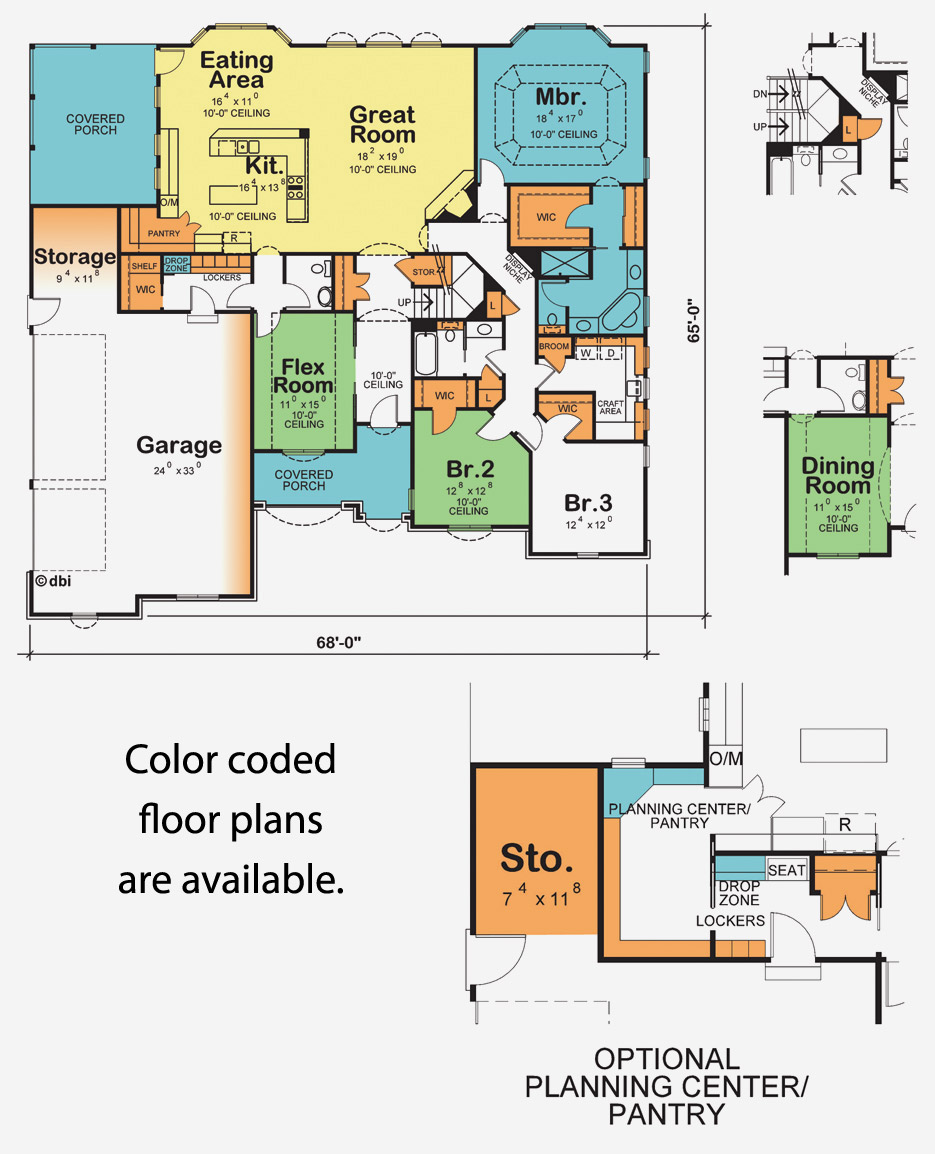 Women primarily employ those four "filters" when looking at a home's suitability for her and her household. How does the home's design and products enhance entertaining? Is there adequate storage, is it located precisely where it is needed, and would select organizational products make it even better? How do you like to relax, or perhaps rejuvenate, at home? Those personal spaces are golden! And for many of us, flexible areas are "must-haves." They could be multi-purpose rooms, or perhaps areas which accommodate different uses at different times of the year.
We can help you decide which aspect of your house is most important by taking the Livabilty at a Glance® Quiz.
Every floor plan can be customized to suit your individual livability profile! The floor plan on the right has numerous flexible living spaces, and various options like an optional planning center / walk-in pantry room.